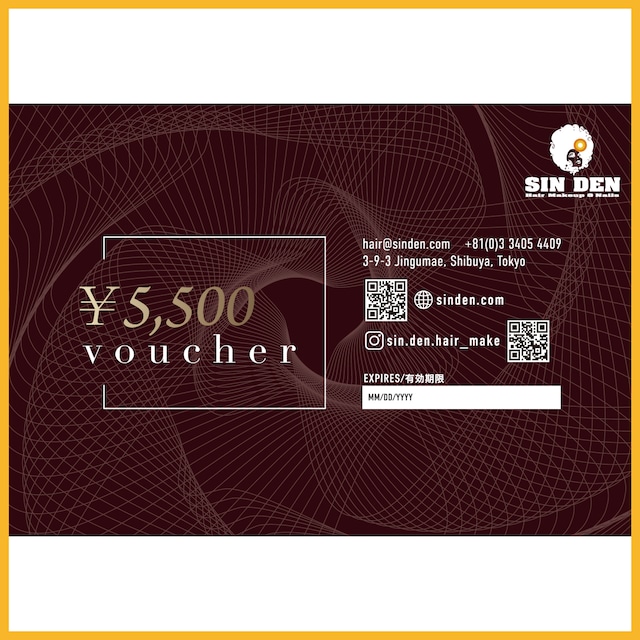 SINDEN Gift voucher【¥5,500】
A gift voucher that can be used at the beauty salon SIN DEN in Omotesando.
Great for seasonal gifts or birthday gifts to friends or rewards for yourself.

Great value with a gift voucher with a 10% bonus on the purchase price
If you pay 5,000 yen ➔ you'll get a 5,500 yen voucher !!


[About SIN DEN voucher description] 
・10% of the purchase amount will be added to the voucher usage amount.
・This voucher can be used for hair and nail services at SIN DEN salon only.
・You can choose the delivery method by mail or pick up at the SIN DEN salon.
・Please note that this gift voucher is not a digital voucher.
・If you would like to purchase it for gifts, please fill in the remarks column.
・Please note that we cannot accept gift wrapping requests.

[How to use this voucher]
・Please let us know at the time of booking that you will be using the voucher.
・Please hand it to the cashier at the time of payment.
・Please note that the difference cannot be refunded if the amount used is less than the face value of this voucher when you use it.

[Terms and conditions]
・Vouchers are non-convertible to cash.
・Please note that we will not be reissued and will not be responsible for lost, stolen, damaged, or destroyed gift vouchers.
・This voucher is valid for one year from the date of purchase.
・No returns or refunds can be made for any reason after purchasing this ticket.
・This voucher is not valid in conjunction with other coupons or discount services.
・If you purchase it at the store, it will be used from the next time you visit.
Shipping method / fee

Payment method