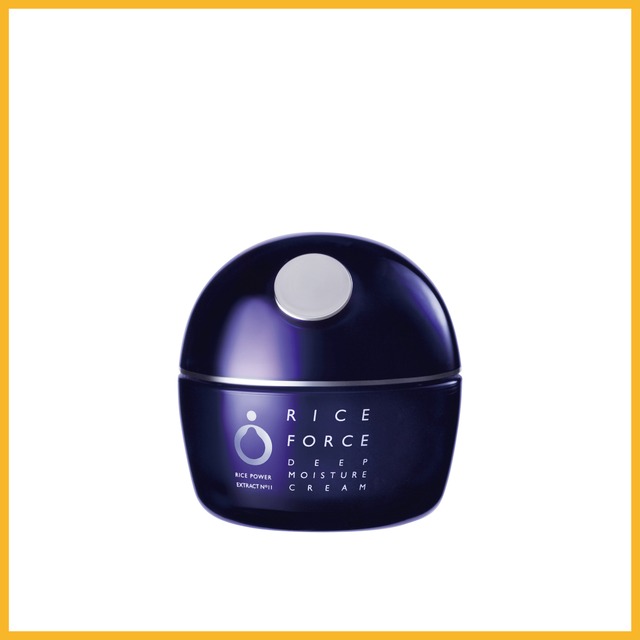 RICE FORCE Deep Moisture Cream
30g

[Active ingredient] Rice power No.11

[Other ingredients] Water, cetyl octanoate, BG, vegetable squalane, concentrated glycerin, dimethicone, di-lauroyl-L-glutamate (phytosteryl behenyl 2-octyldodecyl), behenyl alcohol, stearic acid, polyglyceryl stearate, stearic acid Acid PG, coconut oil fatty acid sorbitan, sodium myristylglutamate, glycyrrhizic acid 2K, viscosity regulator, pH regulator, methylparaben, propylparaben, butylparaben
---------------------------------------------
Although it is a cream, it is not sticky and firmly traps moisture.
Deep Moisture Cream is a medicated moisturizing cream containing Rice Power No. 11 extract, an ingredient recognized as "improving the water retention capacity of the skin".
Gently wraps moisturized skin with lotion or serum, and further traps moisture.
Active ingredient: Rice power No. 11 extract combination "improvement of water retention capacity"
It is the only extract approved for "improvement of skin moisture retention" that improves the ability of the skin to retain moisture as an effect of quasi-drugs.
Fragrance-free, color-free, petroleum-based surfactant-free, animal-based raw material-free, weakly acidic
Allergy / cumulative irritation tested * Not all people have allergies / irritation
What is Rice Power R Extract?
Rice that has been said to be good for the skin for a long time Focusing on the power of this rice, "Rice Power Extract" was researched and developed.
Extract rice extract using white rice as a raw material, and add aspergillus, yeast, and lactic acid bacteria to the extract.
It was fermented and aged for a long time of 90 days.
It is an ingredient made from 100% rice that does not contain chemical substances.
Depending on the combination of fermentation conditions, various types of rice power extract are produced,
No. (number) is attached according to the effect and efficacy.
"Rice Power Extract" The infinite possibilities hidden in rice Click here for the product list for each Rice Force Extract Extract No. Active ingredient
No.11 (improvement of water retention capacity)
Effect of improving skin moisture retention (improving the ability of the skin to retain moisture)
It is an active ingredient of quasi-drugs that have been approved.
Recommended for dry and ultra-dry skin.
Shipping method / fee

Payment method